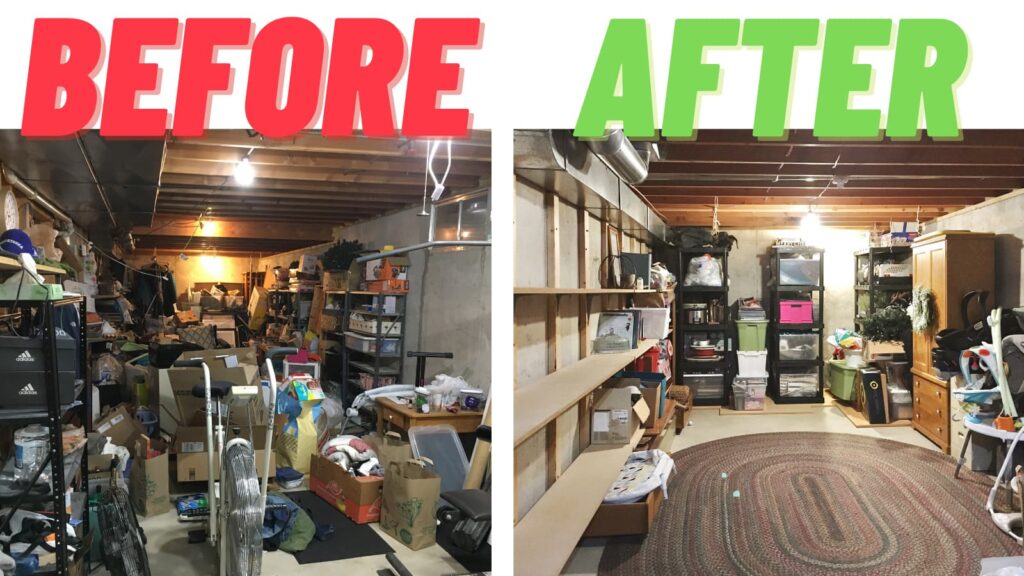 ☝️ It took us four years to start cleaning our basement. Between moving in, renovations, full-time jobs, and a new baby, our basement got so messy we didn't know where to start. But thanks to a simple, 4-step process I stole from my business life, I was able to start crushing my procrastination.
And now, sure, it's still an unfinished basement. But I'm not worried about losing our kid in a pile of junk anymore. And that's a big win for this stay-at-home dad.
The best part? I did the majority of the clean-up working in 15-minute sprints. A lot of times while watching my kid, by myself, as a stay-at-home dad. That means even while I was conquering the Basement Pile of Shame™ I still had time to lift and mountain bike. I even took a nap or two myself.
So, whether you've got a basement like ours, a dank shed, or a small closet of horrors, you can use this same process — right now — to start cleaning even when you don't know where to start. Here's how.
Table of Contents:
Intro: No more excuses. Making time to clean as a stay-at-home dad.
Step 1: Answer three simple questions to pick where you want to start cleaning…right now
Step 2: Start small and finish something
Step 3: Set a timer, put your phone away, and work
Step 4: Sink your sunk costs — aka "When in doubt, throw it out."
Intro: No more excuses. Making time to clean as a stay-at-home dad.
When we first moved in, I was still working full-time. It was easy to say, "I'll do it later. I've got a big mess to fix at work." And then we had a baby, we kept fixing up the house, the baby turned into a toddler, and suddenly we were hoarders.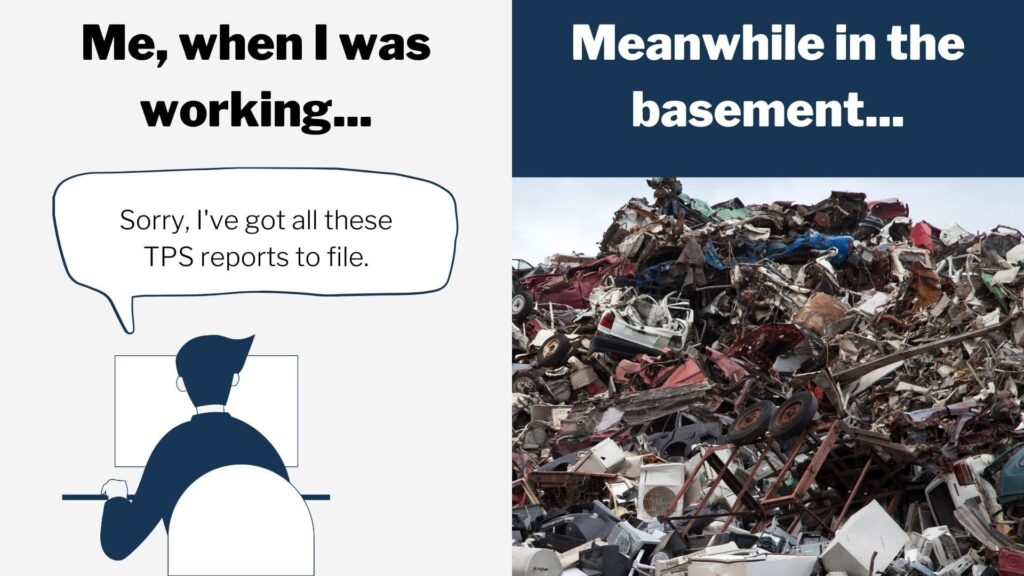 But, now that I'm a stay-at-home dad, I feel a much bigger responsibility to keep the house clean vs. when I was working. The house is my job. It's right there in my job description between "comfortable changing diapers in a fast-paced environment" and "capable of lifting between 8 and 30lbs repeatedly".
Plus, it's a gift to be home all the time with my little dude. The least I can do is to make sure that my wife gets to come home to a calm, uncluttered space when she's done working.
Unfortunately, as a stay-at-home dad, I don't have 40 hours/week of uninterrupted time to grind out house projects. Basically, I'm a middle manager with a very demanding — but adorable — boss. That means most things get done in small chunks between naps, trips to the park, after bedtime, in between working out, etc.  So, when I do have time to start cleaning, I need to know exactly where to start.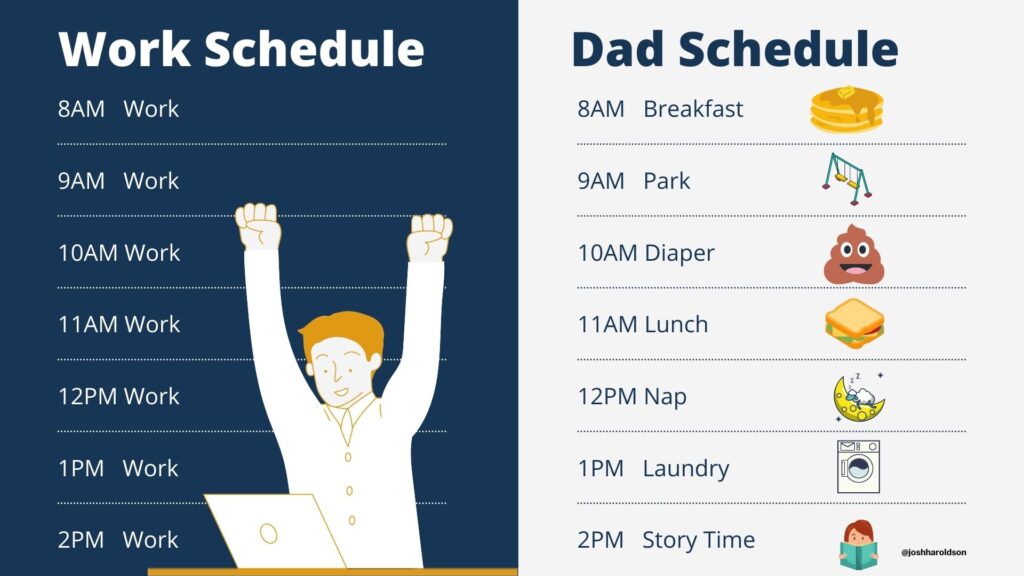 And that's why I love this system as a parent. It can help you figure out where to start cleaning even if you have no idea where to start while making sure you're on track to finish the job. And along the way, you'll make consistent, visible progress, even if you've only got limited time to clean. Let's get started.
STEP 1: Answer three simple questions to pick where you want to start cleaning…right now
When you've got an overwhelming cleaning project — like cleaning a messy basement — there's rarely a clear starting point shouting, "START HERE". So what's a dad to do?
Start by asking yourself these three questions. Your answers will help you take a wide view of your project and force you to get more and more specific until you're able to find one task you can do right away. And then guess what? That's your starting point!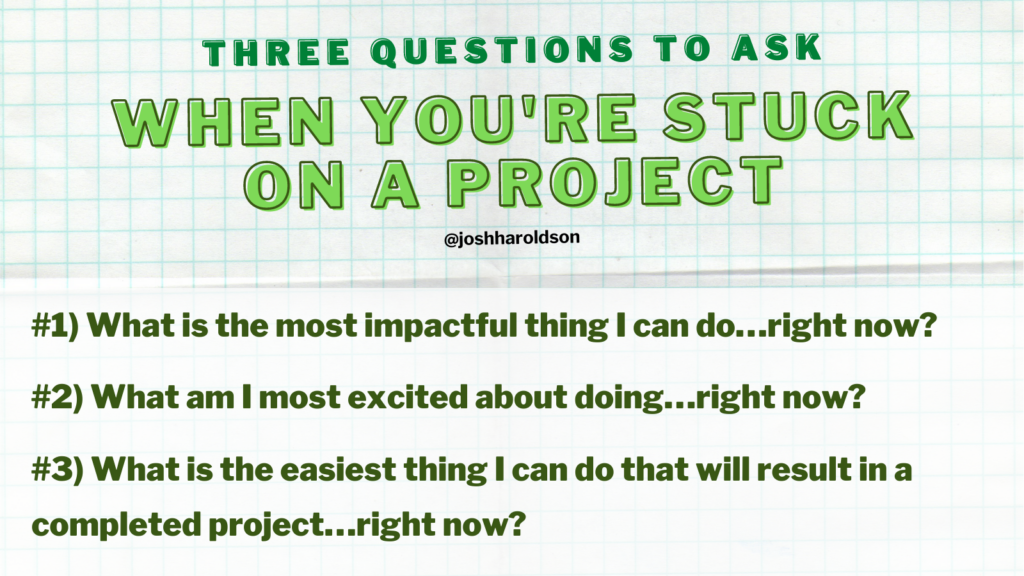 This is a proven approach to problem-solving that I first used in engineering school while studying for exams. Then, it came in handy during my career as a Marketing Manager when I had to prioritize marketing activities. Now, it's helping me as a stay-at-home dad with everything from cleaning to DIY project planning.
Here's how I answered the three questions for our Basement Pile of Shame™.
IMPORTANT NOTE: I think it's critical that you ask these questions sequentially to be guided down to a single task. That means using your answers for question #1 as the starting point for question #2. Then using your answers for question #2 as the starting point for question #3.
Q1: What are the most impactful things I can do…right now?
I define impact as anything that will have a big effect on your mood, your day-to-day tasks, or can make the rest of the project easier or less important. So, it's ok to list more than one thing here.
In the personal finance realm, this is like having a chunk of cash and deciding to fund a savings account or paying off high-interest credit card debt before investing in individual stocks. There's good, long-term value in stocks, but only after you have a cash safety net and minimize high-interest debt.
And remember, our goal is to take action now. Not to plan a long-term strategy. So don't worry about ranking the impactful items against each other. As long as you think something's important, put it on the list.
My Answer: I started by listing areas of our basement that get used every day. Plus, since we use them daily, it will also make me happy to clean each of them up. For us, that means the laundry sink, the pantry, the gym, and the play area. It does not mean the storage area (the "back 40" as we call it) or the tool area (aka the "hardware store") that are both only used occasionally.
Q2: What am I most excited about doing…right now?
Think about the list of impactful things you made in question #1. Which ones are you excited to do right now? Just a quick, "Am I excited to do this now? Y/N?" is ok.
Two things to remember about this question.
Your goal is to go from multiple options to one task. So, only use your answers from question #1, the impactful stuff, to answer this question.
The question is most exciting (among the options). It's ok if you're picking between, "Task A sounds boring" and, "The thought of doing Task B makes me want to puke." In that case, avoid Task B and the barf. Task A is the winner.
My Answer: The gym and the laundry room. I love my home gym and I want it to be a place my wife and I enjoy spending time in. But I'm also super sick of dealing with the pile of junk in our laundry sink.
Q3: What is the easiest thing I can get done…right now?
This one's simple. What seems easy? Once again, only use your answers to the previous question — in this case, "what are you most excited about" — and then pick whichever one seems easier than the others. If you're already down to one option, great, that's automatically the easiest. And if they all sound hard, that's ok. Just pick one. The next step is all about simplification.
My Answer: Cleaning out the laundry area. Our home gym needs a more complete audit of stuff and some new storage options. I probably need to buy and install a few things to really get the gym cleaned up. It sounds hard to me. But the laundry room is small. Most tasks are tidying and I don't need to buy or build anything.
The Result: So that's 3 points for the laundry area and 2 for the gym. The laundry wins! But, can I make my goal even smaller and more specific? I think so.

Action Step: The next time you've got a big cleaning project — or any project you're stuck on — start by asking yourself the three questions. I like asking them in the order listed above, but if you're feeling stuck, it's ok to change it up. And to be clear, you don't need to make a spreadsheet either. Because I'm used to this framework I most often do this exercise in my head. But, it can be super helpful to write down your answers if you're working on something big or you need to discuss a plan of action with someone like your spouse. Think of it as a fun whiteboard strategy session without the soul-crushing conference room vibes.
STEP 2: Start small and finish something
Now that you've picked where to start cleaning, your goal is to actually get something clean right now! We're not trying to plan and then do it later. You want a task you can finish right now to start building momentum.
So, you need to double-check that your first task is small enough to be completed right away. To do this, simply ask yourself, "Can I divide this task into smaller components?"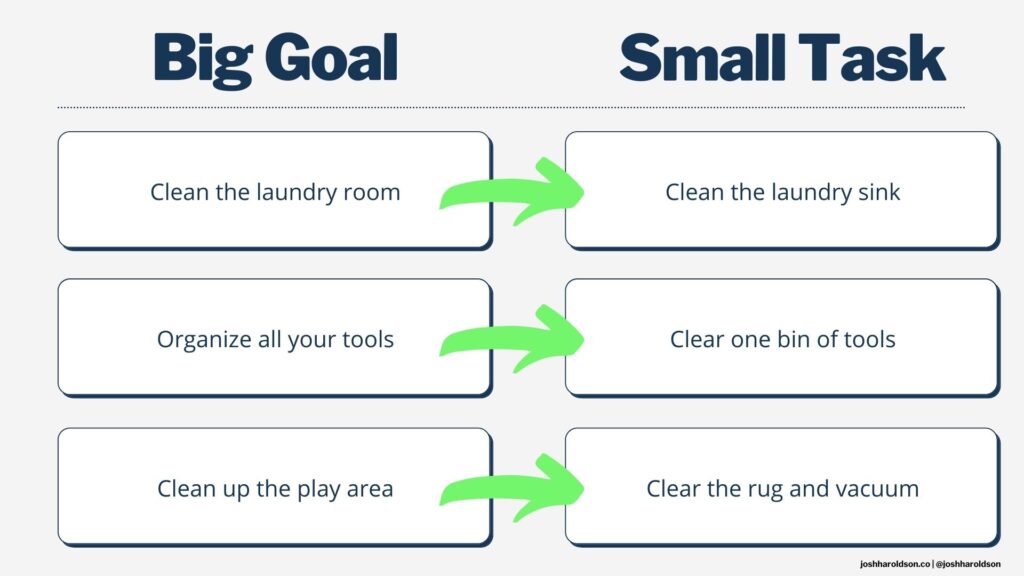 For example, after the three questions, I decided to start by cleaning the laundry area. But to make it more specific and actionable, I simplified my goal to cleaning just the laundry sink. Whatever you do, pick something you're 100% confident you can finish in the time you have to clean. That way, even if you only have 15 minutes before nap time's over, you'll walk away with some forward momentum and a sense of accomplishment.
This is just like setting goals at work. If you need to increase revenue, what's a better goal to give your sales team?
🇦 A vague goal like close 5 more sales?
OR
🇧 A specific, actionable goal that they can control, like finding 5 prospects to contact on LinkedIn every day?
I'll take option B thank you very much.
Action Step: Be realistic and specific with your first task. Divide the task into smaller components and pick one if needed. If the task is absurdly simple, that's ok! You can always clean more if you've got time! Remember, with a big mess and limited time, clean-up is going to take multiple sessions, maybe over multiple days or weeks. So every little bit helps to keep the project moving towards completion.
STEP 3: Set a timer, put your phone away, and work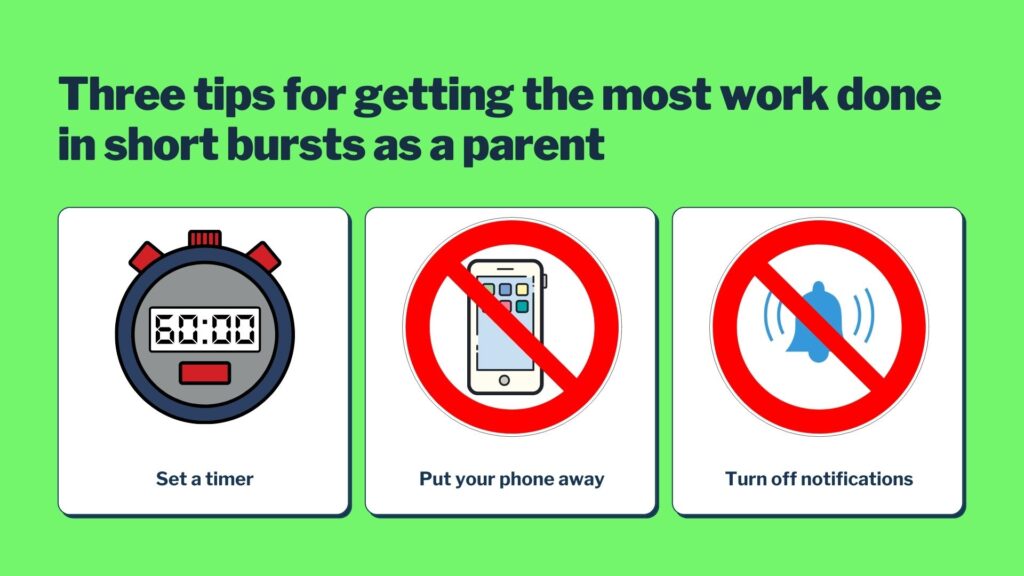 It's easy to underestimate what you can get done in 5 or 10 minutes of focused work. Especially when it comes to cleaning. That's why I find it super helpful to:
Set a timer on my phone.
Put my phone somewhere that's away from the spot I'm cleaning.
Turn off notifications (you already do this right?) and set my phone to do not disturb.
I know that if it's nap time for the kids, it's nice to have time to yourself. But if you're stopping every 2 minutes to check Instagram or respond to a text — you're not actually working.
Remember, when you're a stay-at-home dad, cleaning time is work time. So treat it just like you're cranking out a proposal on deadline.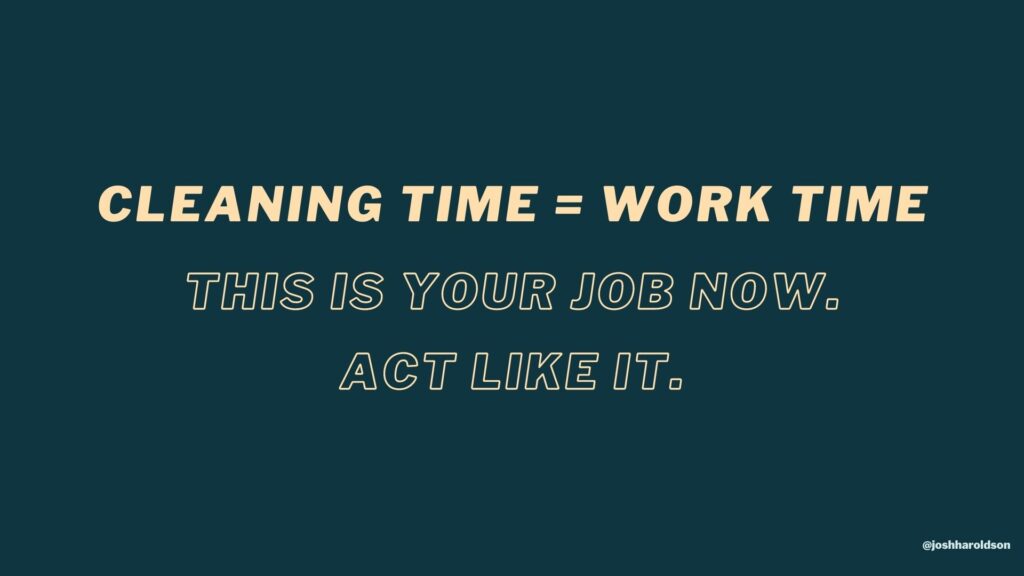 Action Step:
If you're not using them already, a pair of wireless earbuds makes this possible. I use
these headphones from Tozo
. Music can be great when you're cleaning, but I actually prefer listening to podcasts —
Barbell Medicine
is one of my favorites — or an audiobook. In fact, when cleaning time becomes learning time, you might even find yourself looking forward to cleaning. I know I do. I've probably listened to more books in the last 18 months than I have in my entire life. Use this time to your advantage.
STEP 4: Sink your sunk costs – aka "When in doubt, throw it out"
Dude, you're cleaning. You've got a podcast going and you're making progress. But then, you run into what I call a "sunk cost" and you freeze. But wait, what's a sunk cost when it comes to cleaning?
As a reminder, in accounting, sunk costs are money you've spent that you can't get back. And in cleaning, I define sunk costs as the stuff that makes you ask, "What the heck do I do with this?" Some examples might be:
Anything you can't remember using recently
Stuff that's broken
Old cleaning supplies
Stuff you've "been meaning to do something about"
So, how do you deal with your sunk costs? Simple. "When in doubt, throw it out!"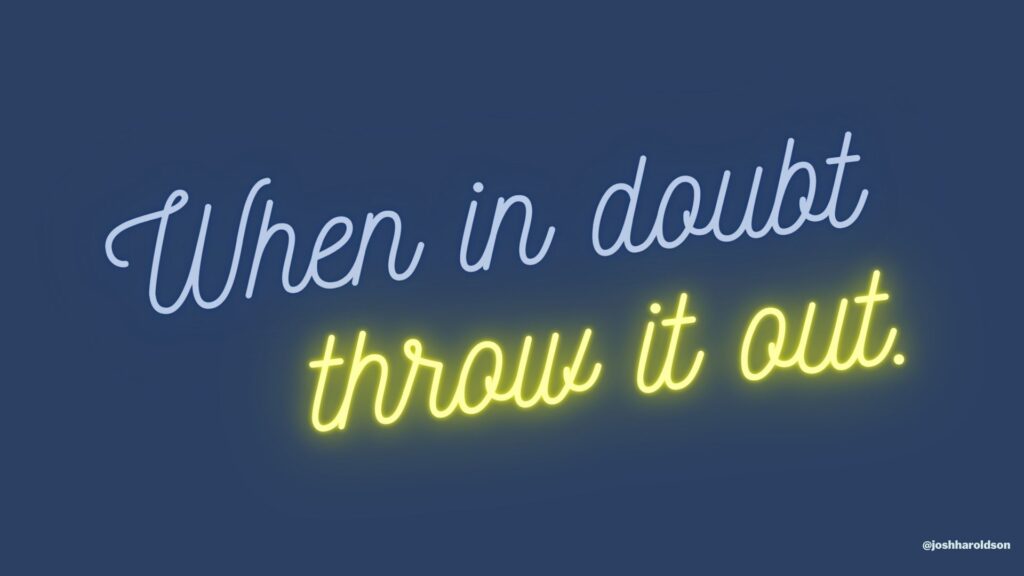 Don't think twice. Just do it. That could mean you:
Donate it. We've got a bin that lives under our basement stairs. Once it gets full we take it to our local thrift store.
Recycle it. We keep a box of old chemicals in our garage. Once that gets full, it goes to the local recycling center.
Trash it. The junk already exists. Sometimes it just needs to go.
For our laundry sink, that meant tossing the paintbrushes that were sitting in a bucket for 3 months. I know, I could have cleaned them and reused them. I meant to do that. Honest. That's why they were in the bucket. But in this case, the mistake had already been made. The best thing for me to do was to toss them. And do better next time.
I'll admit, I struggle with this one — a lot. You better believe I just got around to recycling my notes from college. From my materials engineering major. That has nothing to do with my job today. Or that I can even understand anymore. That's why I know this rule is so important. Holding onto stuff is the biggest speed bump you'll run into.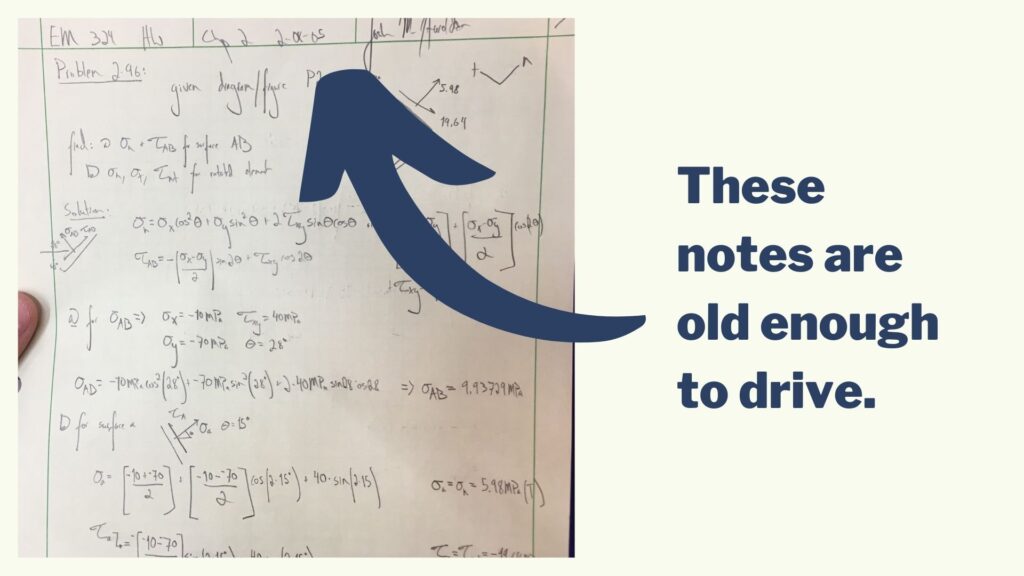 Action Step: If you have a hard time getting rid of stuff, get three bins and label them as "Trash", "Recycle", and "Donate". While you're cleaning, toss any "sunk costs" in the appropriate bin without mercy. And then let them sit there for at least 24 hours once you're done. If you feel like you made a mistake, put it back. You haven't done any permanent damage. If not, then toss the junk and move on.
Summary
This isn't magic. But just like in the corporate world, systems help get work done. And this approach is exactly what you need to start making small, visible, and consistent progress towards cleaning up your next big mess. Good luck! Remember, don't quit. Make it easy!
Step 1: Pick where you want to clean…right now
Step 2: Start small and finish something
Step 3: Set a timer Put your phone away and work
Step 4: Sink your sunk costs — aka "When in doubt, throw it out."