This week I'm excited to try something new. As much fun as it is to write down my edits, I know that when it comes to software or learning how to a play a game, I personally learn a heck of a lot more when I can actually see what someone is doing.
How to edit an interior photo using VSCO X and Fuji Pro 800Z
And that's why I'm super excited to share something new with all of you! Instead of just writing down my edits, check out the video below to watch me edit a photo from start to finish in "real time" (aka 2x speed). So…
Watch the video below.
Then, keep reading to see a summary of the final value and to get a link to download the file for yourself.
Before / After: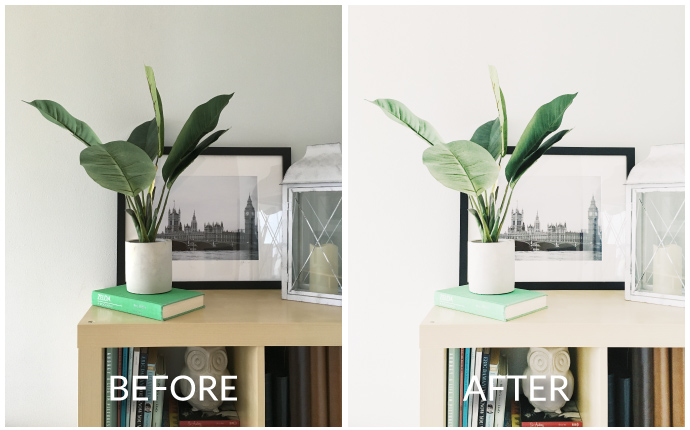 Apps Used: VSCO (iOS, Android)
Camera: iPhone 6S
Software: VSCO / VSCO X
EDITS
VSCO:
Preset: FP8 +8.6***
Character: +0.1***
Warmth: -0.3***
Exposure: +3.4
Contrast: +2.6
Straighten
Shadows Save: +0.4
Clarity: +0.8
***VSCO X Exclusive Feature
NOTES
Do you have a spot in your home that you love? The kind of place that you always stop and notice when you walk by?
This is one of those places for me and as a result I've taken a lot of photos of this little corner over the years. It's always fun to recored the subtle changes we've made in the contents of the book shelf, the plants, and pictures on top.
More importantly, this is the kind of photo that gets taken a lot in people's homes. A quick snapshot with, maybe, ok light.
As you can see in the Before photo, this photo was taken on an overcast day where we had some nice, flat light. However, that also meant the photo looked a little dull out of the camera which is why I made sure to add in a lot of extra exposure, plus some contrast to make sure the photo had a pleasant brightness to it.
Of course, I don't like my interiors to get too harsh looking either (the darks too dark and the brights too bright) so just a touch of Shadow Save soften up the whole image by brightening the dark shadows just a small amount.
-Josh
@joshharoldson
p.s. If you liked this video let me know in the comments!